The Funky series includes a complete range of IP67 luminaires for the projection of light in outdoor. The range includes three different sizes and powers, all characterized by an extremely clean, minimal and easily camouflaged design; wired with H05RNF neoprene cable, the projectors are made in anodized aluminum and are complete with a 2 mm thick fixing bracket; this is equipped with a graduated ring for aiming adjustment. Funky projectors are equipped with high efficiency CoB drivers and LEDs and are complete with optical lenses with different beam apertures; They are therefore ideal for illuminating objects and architectural elements from a distance with precise accent lighting effects, or to obtain softly diffused grazing light effects on surfaces and facades. The Funky series is completed with a rich range of useful accessories both to solve different types of installation and to control glare.

The Funky bracket is made of 2 mm. anodized aluminum thick; it is complete with graduated ring for aiming adjustment. The aiming is blocked by means of a double Allen screw. Funky's adjustability is +90°/ -90°.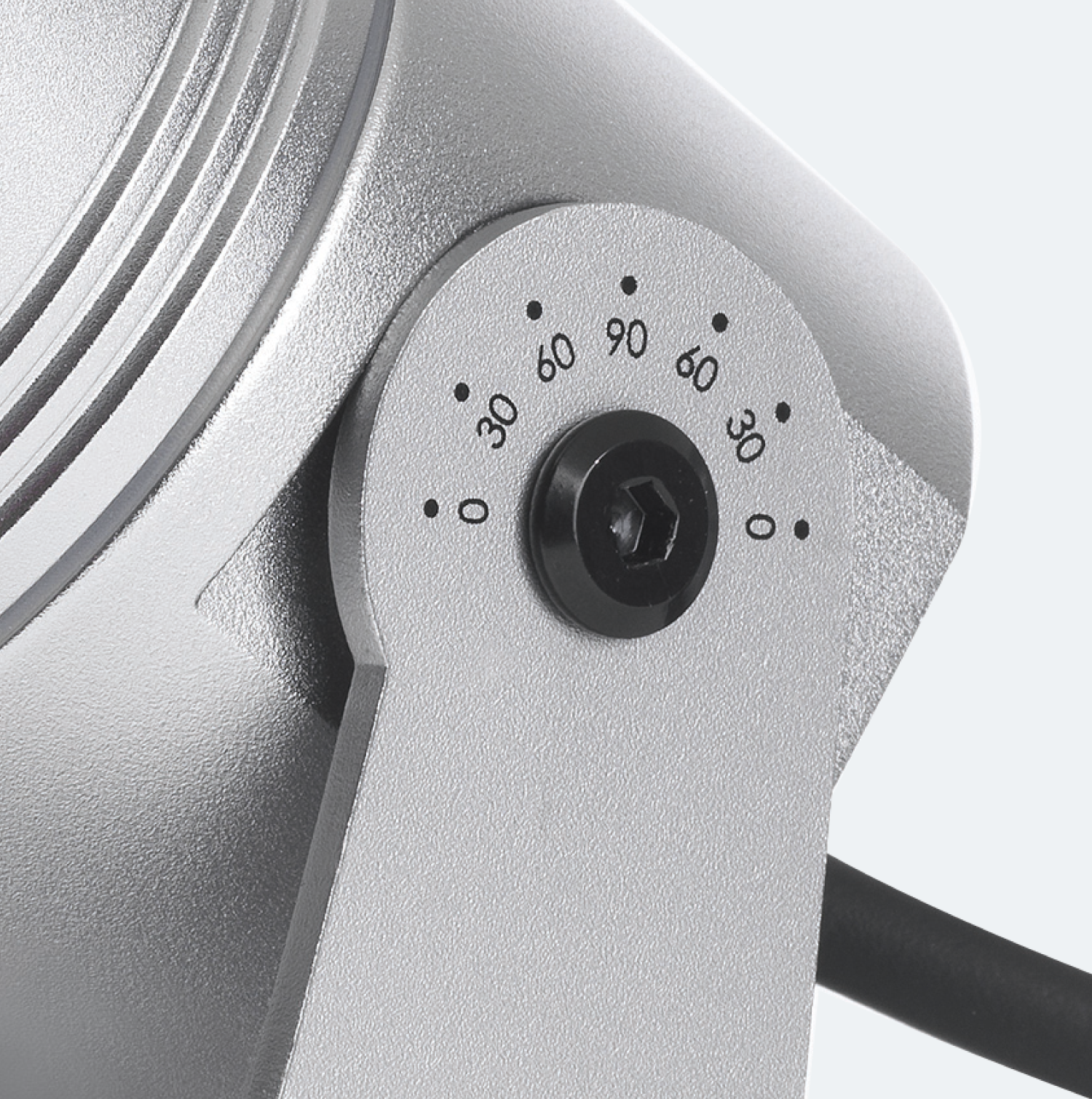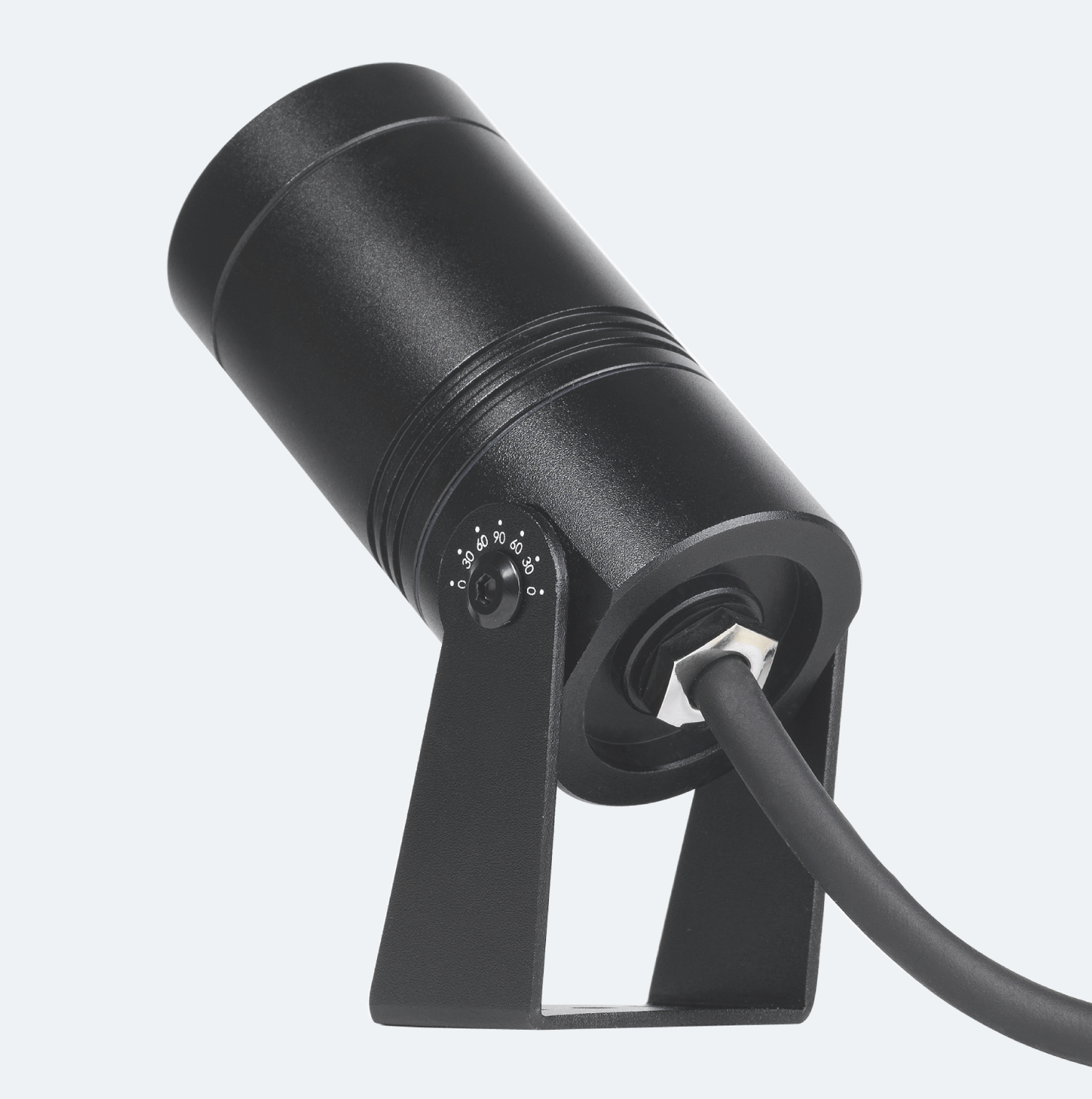 Funky is complete with H05RN-F neoprene cable for outdoor use and IP67 steel cable gland.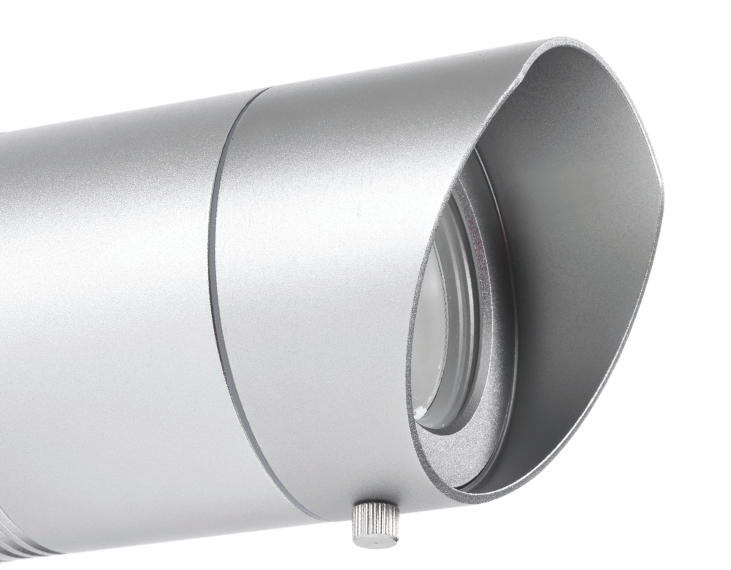 Funky can be equipped with an asymmetrical cut-off screen; made of anodized aluminum in the same color as the body of the device, this screen reduces direct glare and emphasizes the effect of radiant light.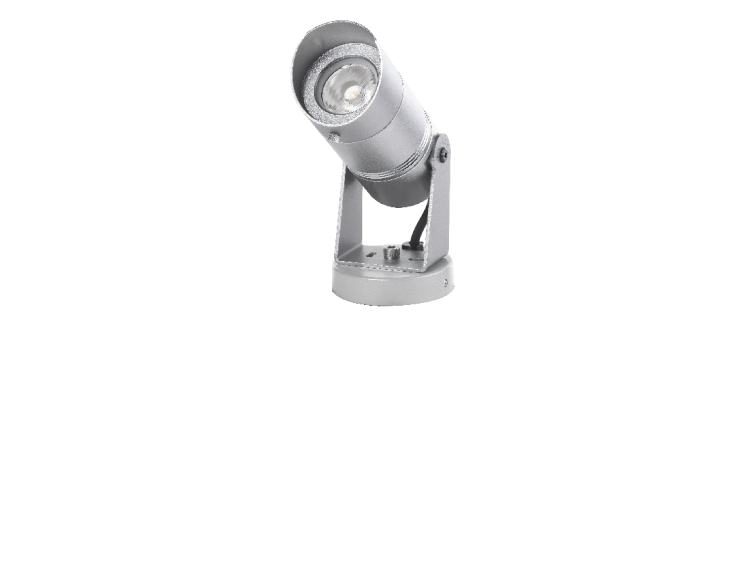 Base / Cable-Clamp for surface installation; in addition to being a support for the projector, it allows you to clamp the power cable avoiding any accidental tearing.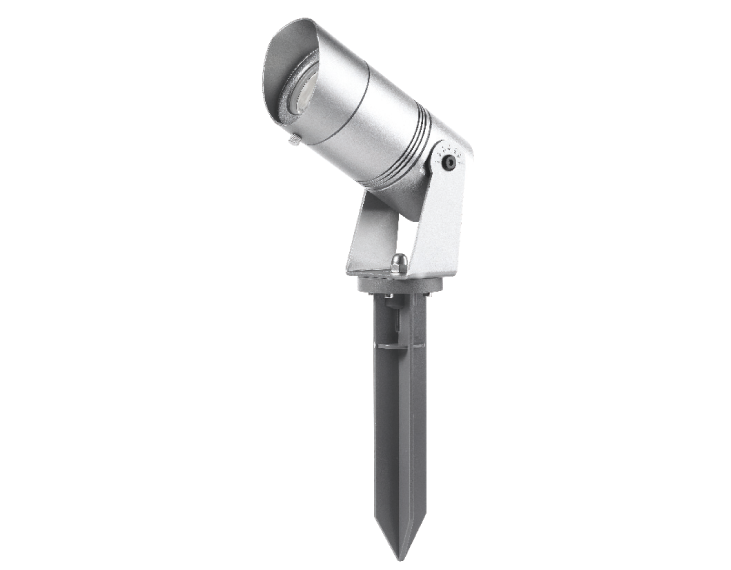 ABS Spike with metal base for installation in the ground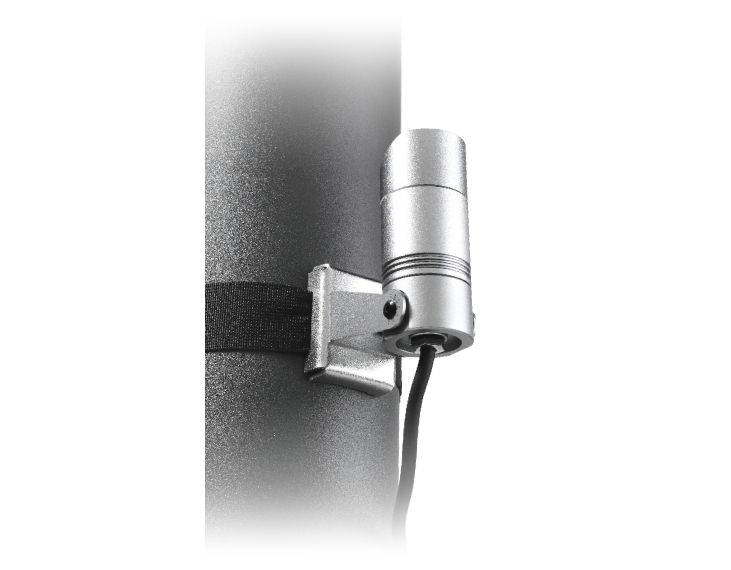 Adjustable nylon ripstop belt for installation on tree or pole. Maximum lenght 1 meter.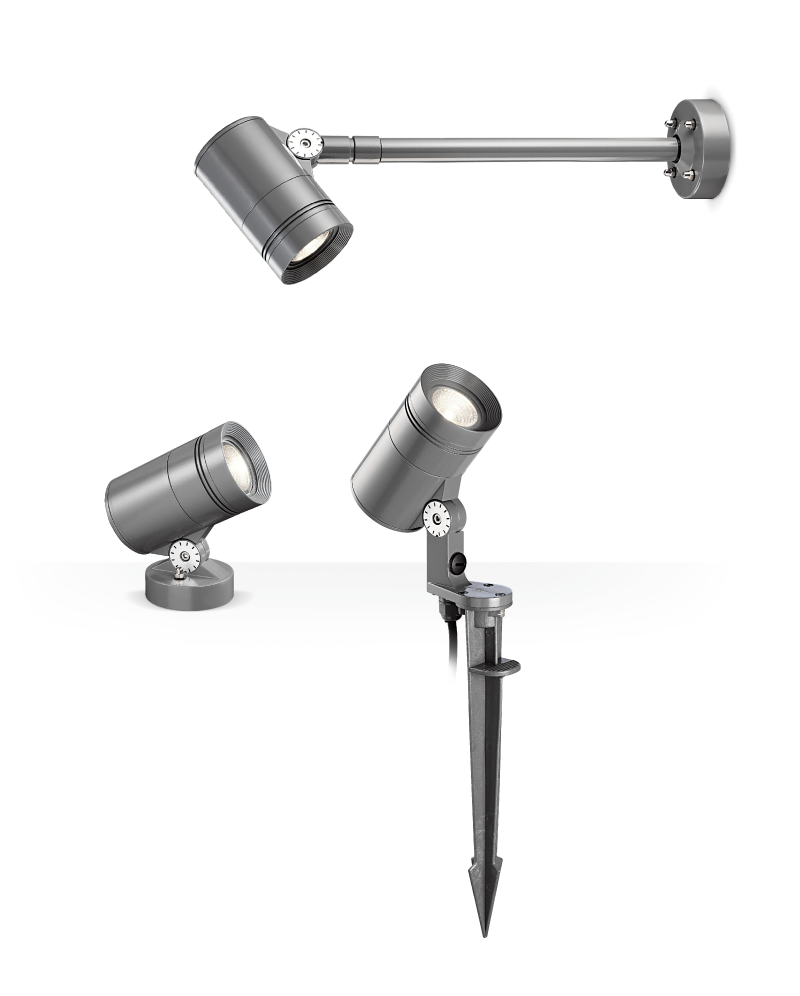 Shoot is an adjustable projector made of die-cast aluminum and equipped with a CoB Led combined with a specific 30 ° optical lens; it can be installed outdoors and stands out for its numerous fixing systems which make it extremely versatile for solving various installation problems; mounted on a bracket, on an arm rather than on a spike, Shoot is the projector with small dimensions ideal for illuminating paths, green areas, small monuments or any architectural element.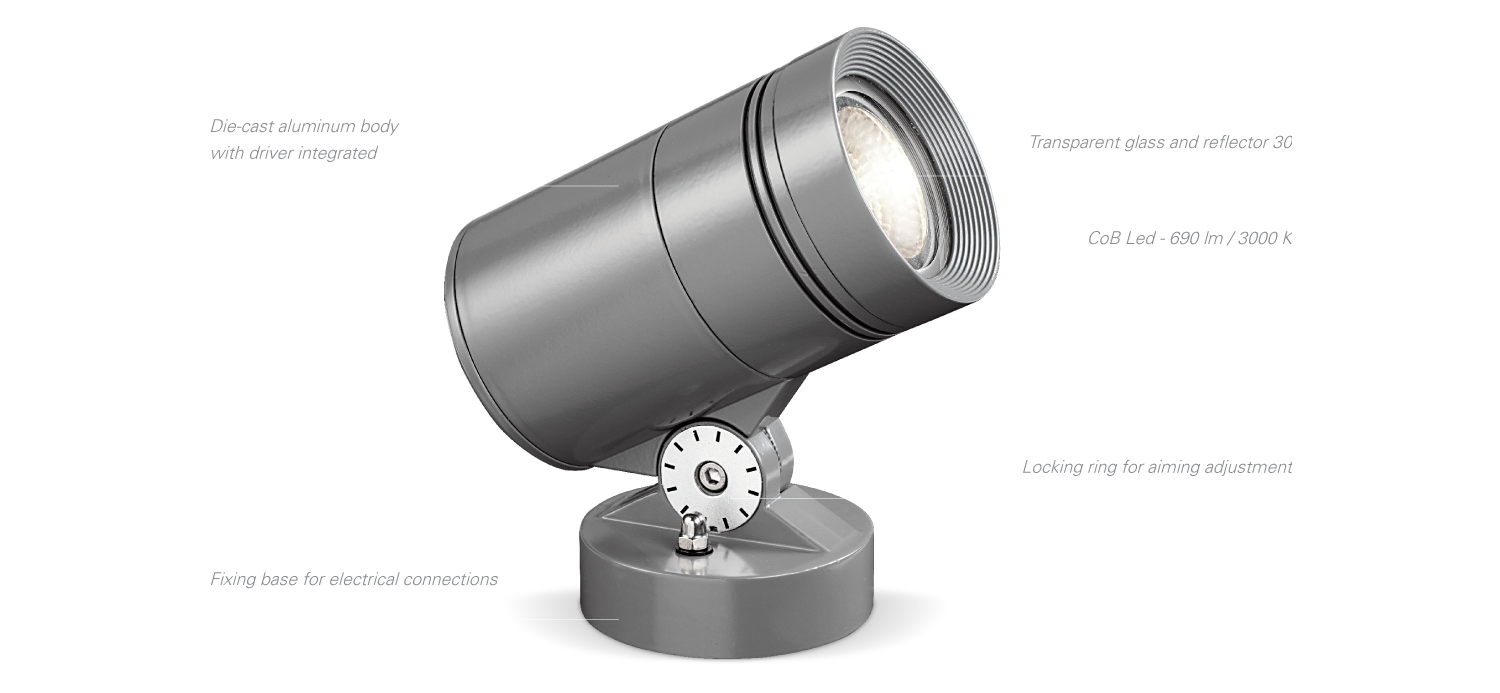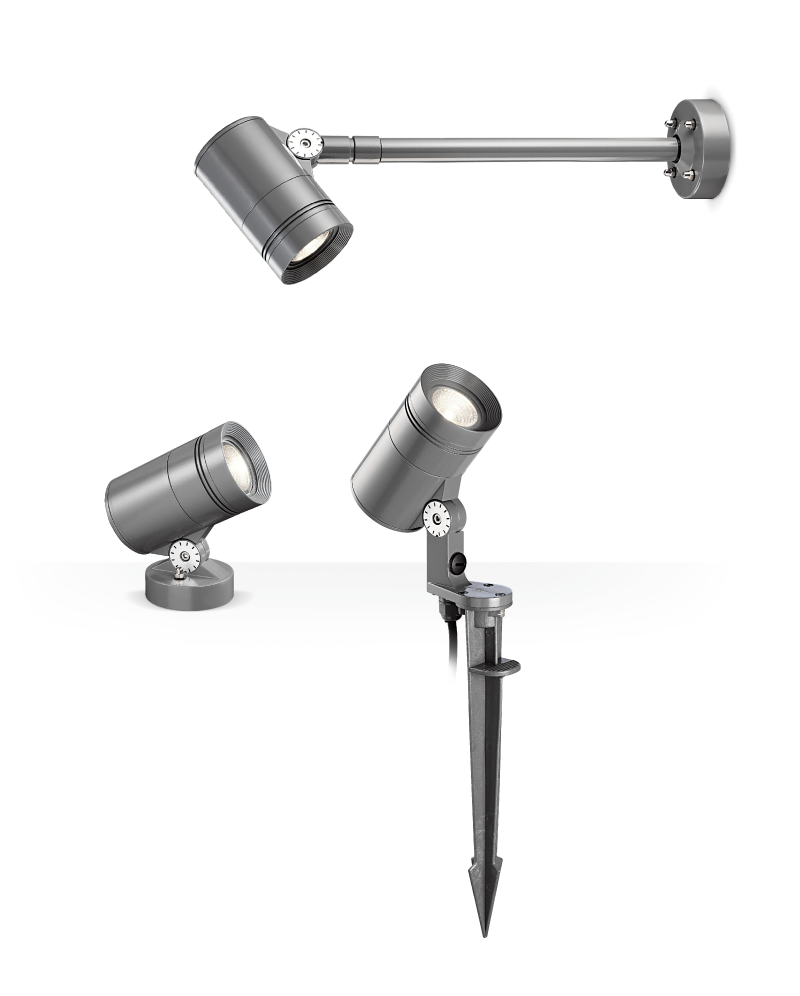 Shoot is available in the three Basic, Spyke and Wall Arm versions, thanks to which it is possible to solve various installation needs; the Basic version is complete with base for fixing and electrical connection. The Spyke version is complete with an ABS spike 300 mm. length for installation in the ground; the Arm version is equipped with a metal arm 470 mm. length, suitable for overhanging fixing.
Wet
Wet is an outdoor projector made of die-cast aluminum, available in three different anthracite, grey and green colors, which are best combined with the most traditional installations for lighting gardens and small areas. It is completed with traditional GU10 Led sources, interchangeable thanks to the removable front ring; this is fixed to the body with four allen screws that ensure the seal against the penetration of moisture. The position of the source is set back to limit direct glare. Wet is complete with H05RN-F cable and IP67 steel cable gland.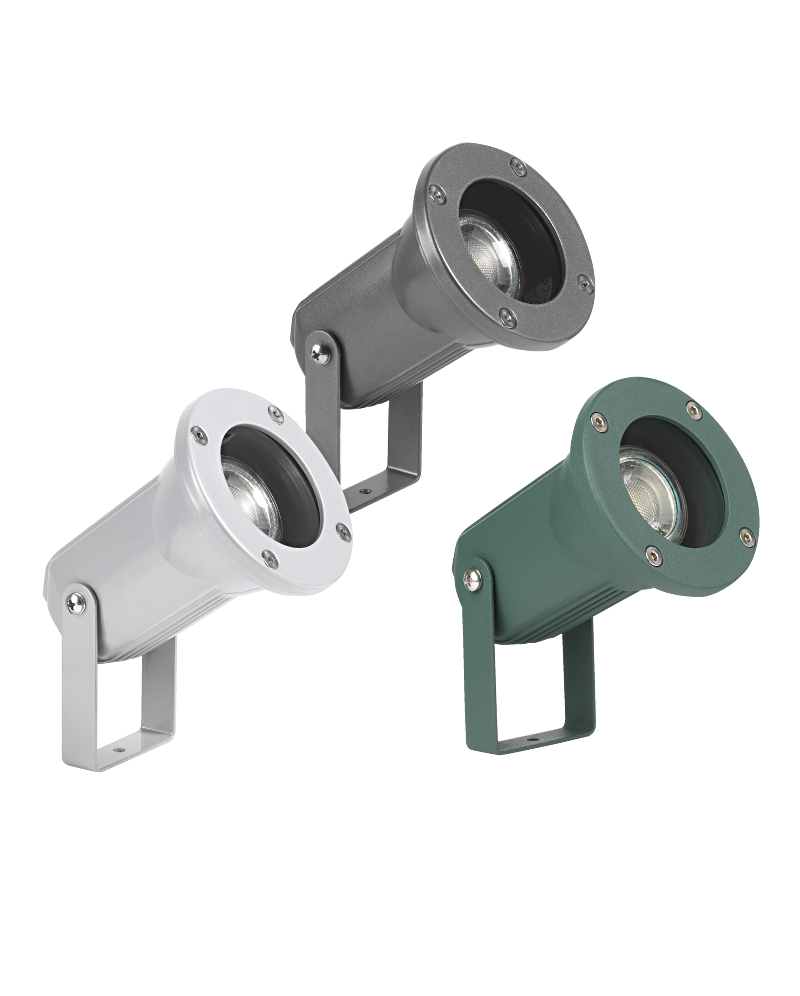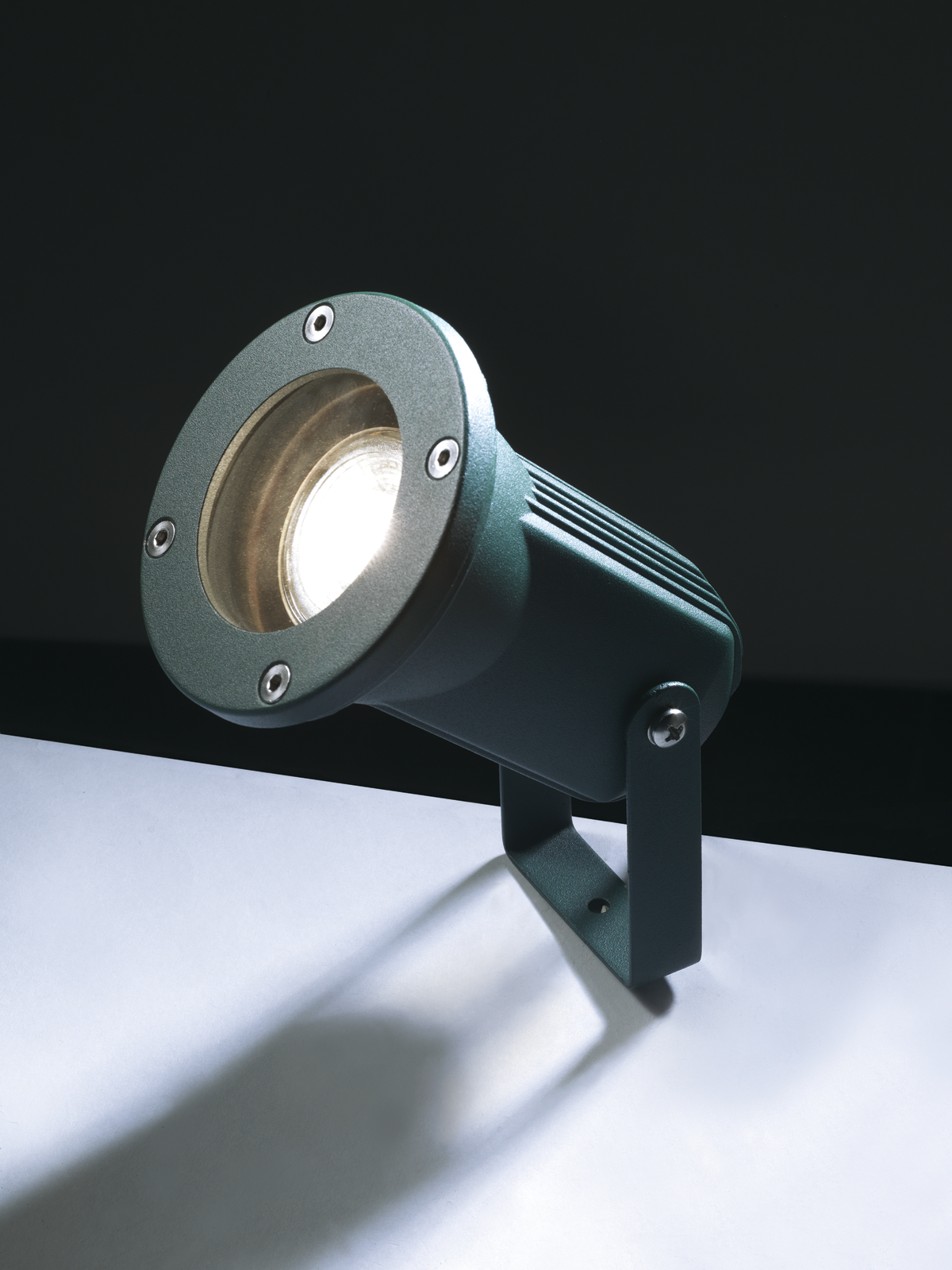 Beam is a modular system designed for outdoor lighting of sports fields and large outdoor areas. The luminaires consist of independently adjustable optic modules assembled on a main body, which contains the driver and the plugs for the wiring. The individual optical modules are equipped with SMD LEDs and specific optical lenses, are made of extruded aluminum which optimizes heat dissipation and are aiming by + 90 ° / -90 ° with respect to the main body, which can also be oriented with respect to the fixing point; The main body is made up of a 304 stainless steel bracket system treated against corrosion; it can be installed on a wall or ceiling or on a pole by combining it with a standard head / pole system (not included).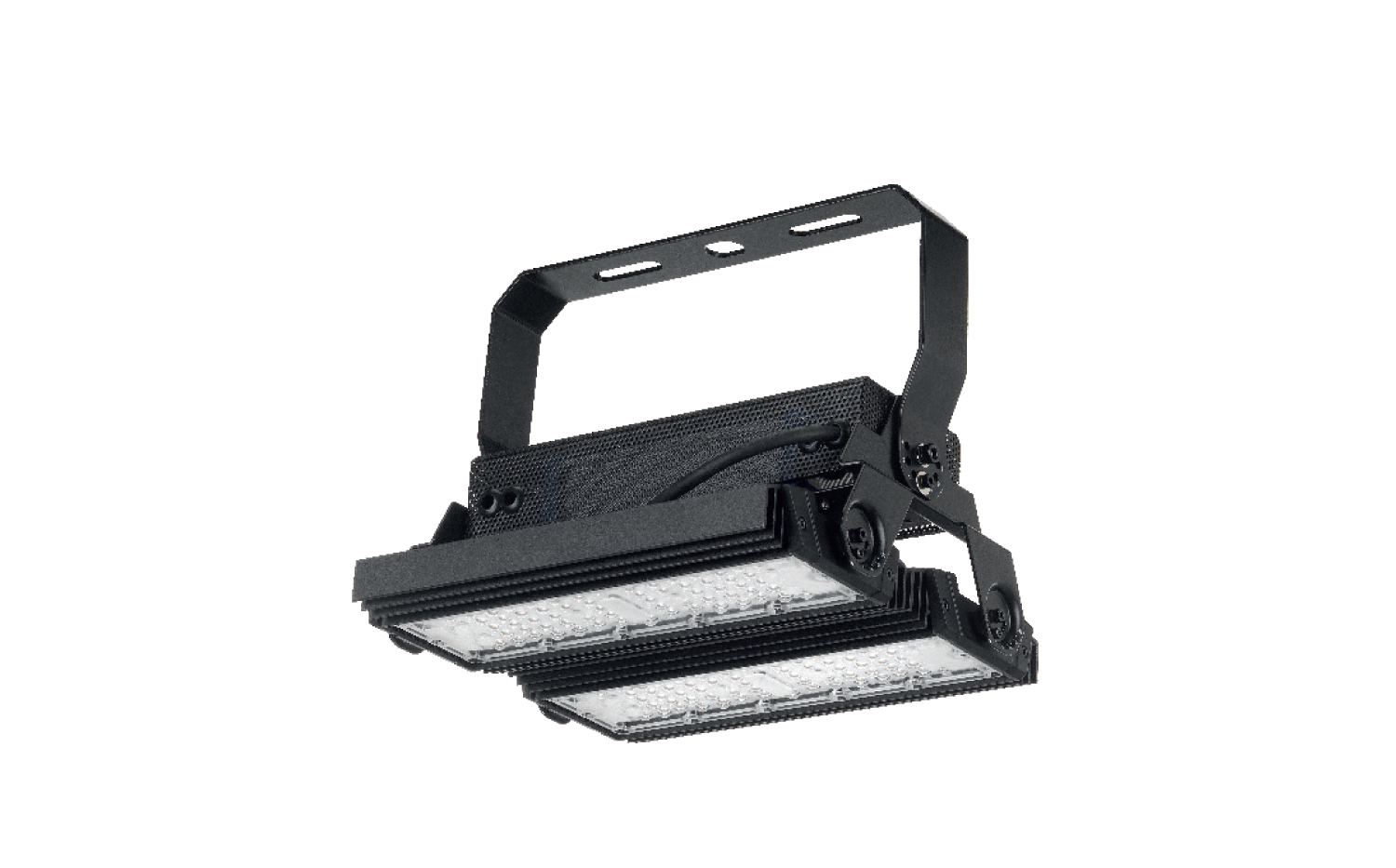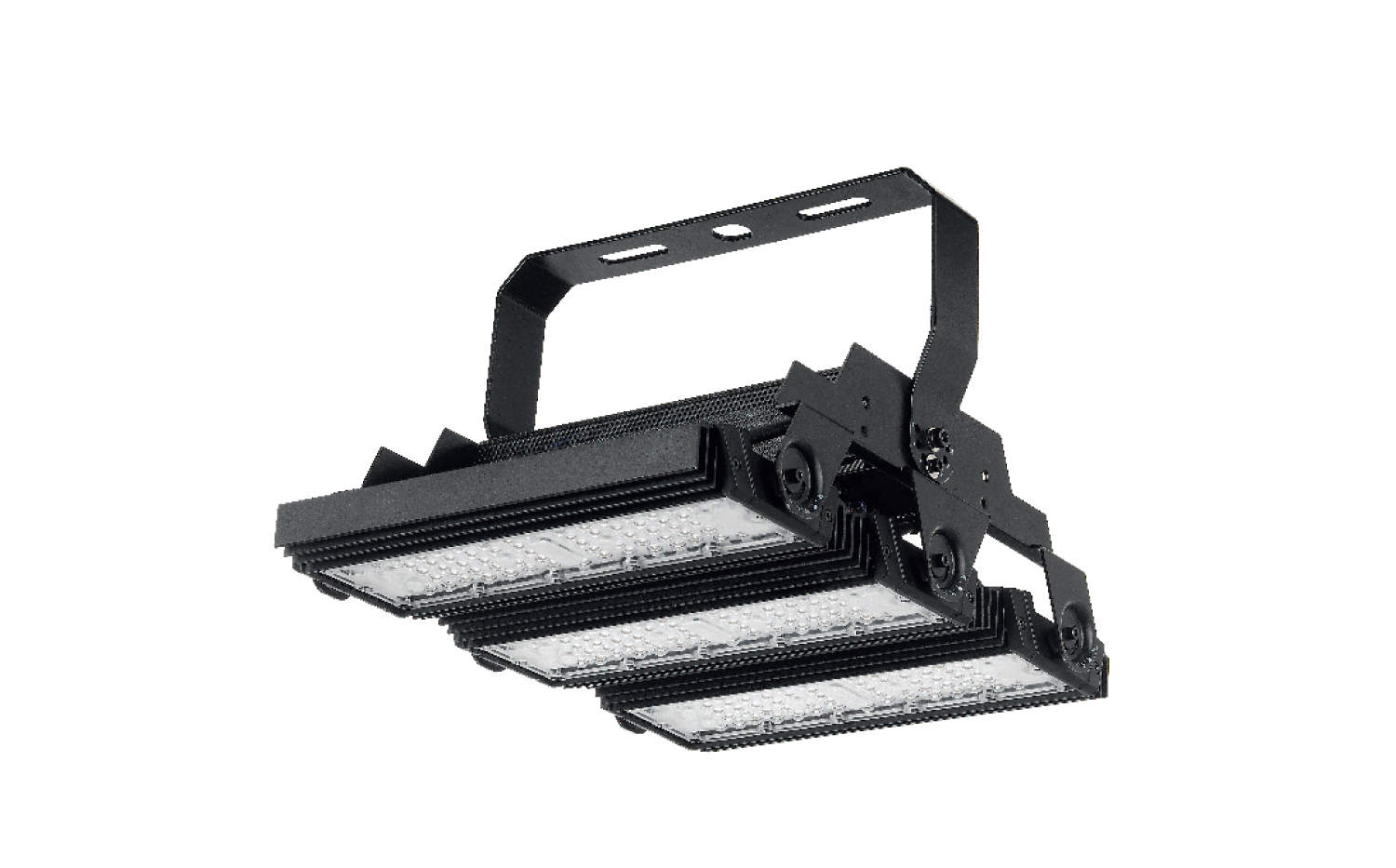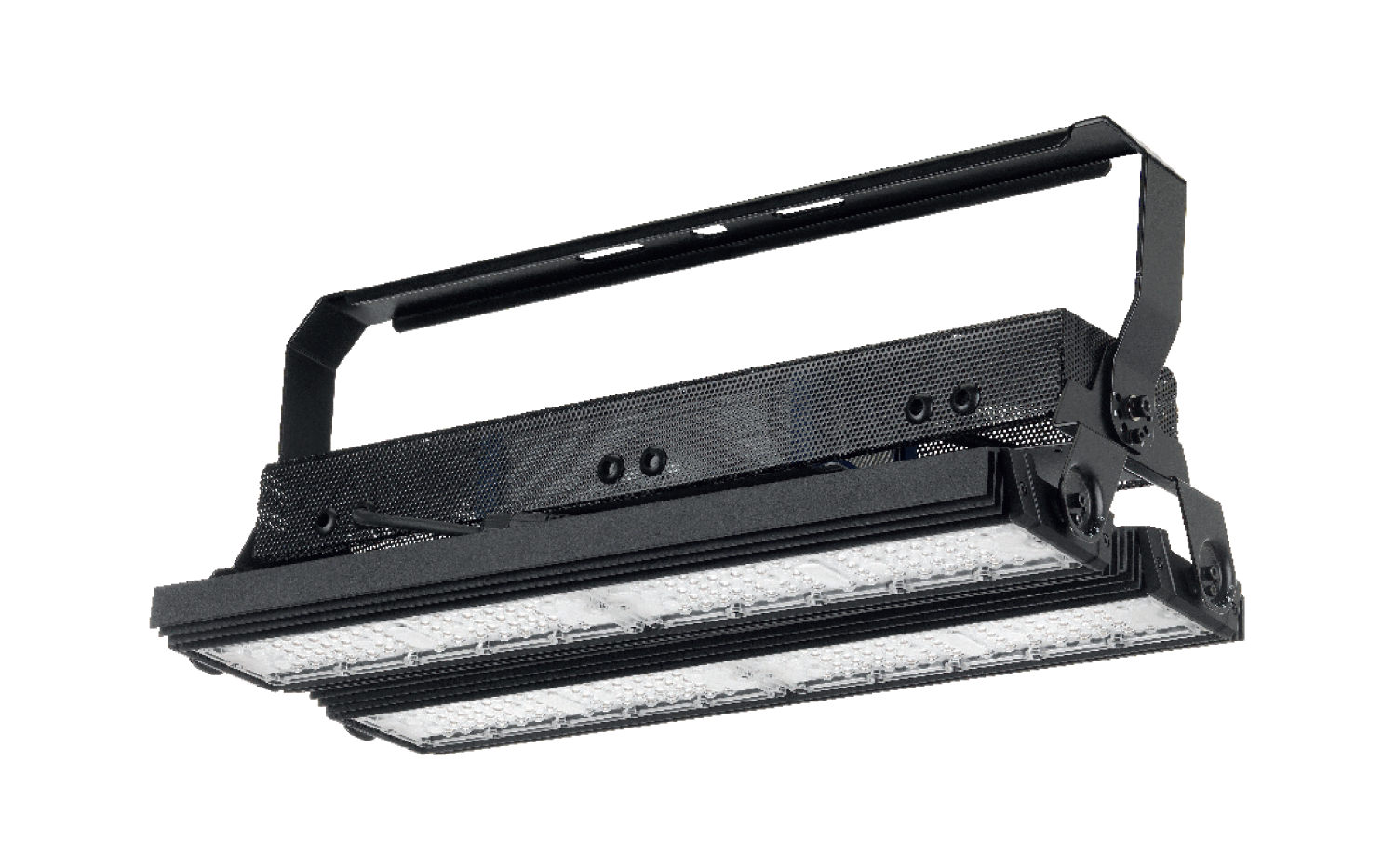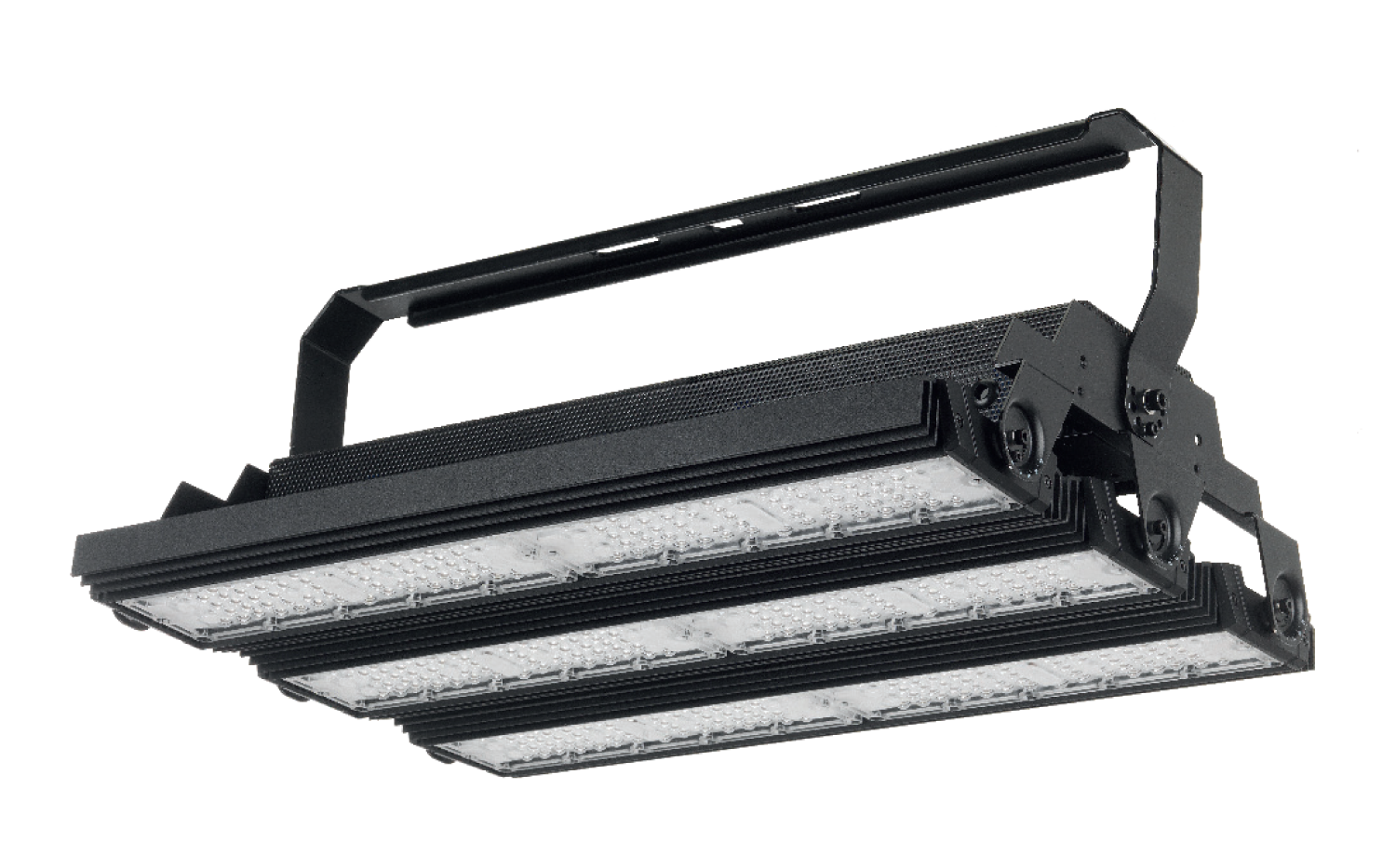 1 – Luminaire adjustability -90°/ + 90°. Adjustability lock with Allen screw on drilling in 30 ° steps. Ideal for ensuring the maintenance of the oriented position over time.
2 – Optical module adjustability -90°/ + 90°. Vertical aiming block with Allen screw on continuous slot -45°/ + 45°, to allow precision aiming and guarantee its reliability over time.